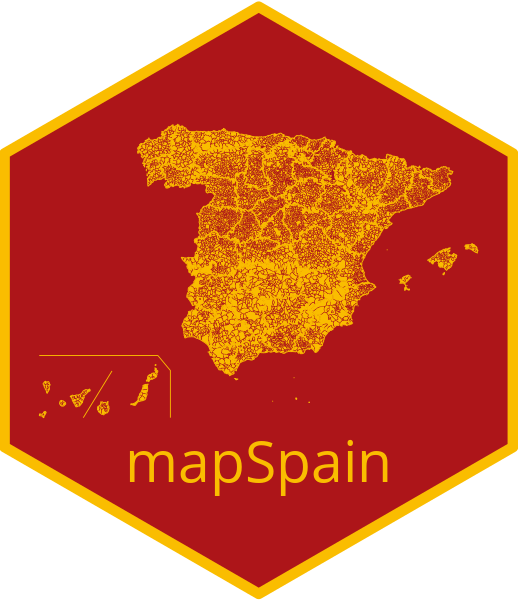 Convert and translate Subdivision Names
Source:
R/esp_dict.R
esp_dict.Rd
Converts long subdivision names into different coding schemes and languages.
Usage
esp_dict_region_code

(

sourcevar

, origin 

=

 

"text"

, destination 

=

 

"text"

)





esp_dict_translate

(

sourcevar

, lang 

=

 

"en"

, all 

=

 

FALSE

)
Arguments
sourcevar

Vector which contains the subdivision names to be converted.

origin, destination

One of "text", "nuts", "iso2", "codauto" and "cpro".

lang

Language of translation. Available languages are:

"es": Spanish

"en": English

"ca": Catalan

"ga": Galician

"eu": Basque

all

Logical. Should the function return all names or not? On FALSE it returns a character vector. See Value.
Value
esp_dict_region_code() returns a vector of characters.
esp_dict_translate() returns a character vector or a named list with each of the possible names of each sourcevar on the required language lang.
Details
If no match is found for any value, the function displays a warning and returns NA for those values.
Note that mixing names of different administrative levels (e.g. "Catalonia" and "Barcelona") may return empty values, depending on the destination values.
Examples
vals

 

<-

 c

(

"Errioxa"

, 

"Coruna"

, 

"Gerona"

, 

"Madrid"

)







esp_dict_region_code

(

vals

)




#>

 No conversion - origin equal to destination


#>

 [1] "Errioxa" "Coruna"  "Gerona"  "Madrid" 


esp_dict_region_code

(

vals

, destination 

=

 

"nuts"

)




#>

 [1] "ES23"  "ES111" "ES512" "ES30" 


esp_dict_region_code

(

vals

, destination 

=

 

"cpro"

)




#>

 [1] "26" "15" "17" "28"


esp_dict_region_code

(

vals

, destination 

=

 

"iso2"

)




#>

 [1] "ES-RI" "ES-C"  "ES-GI" "ES-MD"





# From ISO2 to another codes







iso2vals

 

<-

 c

(

"ES-M"

, 

"ES-S"

, 

"ES-SG"

)




esp_dict_region_code

(

iso2vals

, origin 

=

 

"iso2"

)




#>

 [1] "Madrid"    "Cantabria" "Segovia"  


esp_dict_region_code

(

iso2vals

,
  origin 

=

 

"iso2"

,
  destination 

=

 

"nuts"




)




#>

 [1] "ES300" "ES130" "ES416"


esp_dict_region_code

(

iso2vals

,
  origin 

=

 

"iso2"

,
  destination 

=

 

"cpro"




)




#>

 [1] "28" "39" "40"





# Mixing levels




valsmix

 

<-

 c

(

"Centro"

, 

"Andalucia"

, 

"Seville"

, 

"Menorca"

)




esp_dict_region_code

(

valsmix

, destination 

=

 

"nuts"

)




#>

 [1] "ES4"   "ES61"  "ES618" "ES533"


# \dontrun{







# Warning







esp_dict_region_code

(

valsmix

, destination 

=

 

"codauto"

)




#>

 

Warning: 

No match on codauto found for Centro, Seville, Menorca


#>

 [1] NA   "01" NA   NA  


esp_dict_region_code

(

valsmix

, destination 

=

 

"iso2"

)




#>

 

Warning: 

No match on iso2 found for Centro, Menorca


#>

 [1] NA      "ES-AN" "ES-SE" NA     


# }










vals

 

<-

 c

(


  

"La Rioja"

, 

"Sevilla"

, 

"Madrid"

,
  

"Jaen"

, 

"Orense"

, 

"Baleares"




)




esp_dict_translate

(

vals

)




#>

 [1] "La Rioja"         "Seville"          "Madrid"           "Jaén"            


#>

 [5] "Ourense"          "Balearic Islands"


esp_dict_translate

(

vals

, lang 

=

 

"es"

)




#>

 [1] "La Rioja" "Sevilla"  "Madrid"   "Jaén"     "Orense"   "Baleares"


esp_dict_translate

(

vals

, lang 

=

 

"ca"

)




#>

 [1] "La Rioja"      "Sevilla"       "Madrid"        "Jaén"         


#>

 [5] "Ourense"       "Illes Balears"


esp_dict_translate

(

vals

, lang 

=

 

"eu"

)




#>

 [1] "Errioxa"         "Sevilla"         "Madril"          "Jaén"           


#>

 [5] "Ourense"         "Balear Uharteak"


esp_dict_translate

(

vals

, lang 

=

 

"ga"

)




#>

 [1] "A Rioxa"        "Sevilla"        "Madrid"         "Xaén"          


#>

 [5] "Ourense"        "Illas Baleares"





esp_dict_translate

(

vals

, lang 

=

 

"ga"

, all 

=

 

TRUE

)




#>

 $`La Rioja`


#>

 [1] "A Rioxa" "a rioxa" "A RIOXA"


#>

 


#>

 $Sevilla


#>

 [1] "Sevilla"              "sevilla"              "SEVILLA"             


#>

 [4] "Provincia de Sevilla" "provincia de sevilla" "PROVINCIA DE SEVILLA"


#>

 


#>

 $Madrid


#>

 [1] "Madrid"               "madrid"               "MADRID"              


#>

 [4] "Comunidade de Madrid" "comunidade de madrid" "COMUNIDADE DE MADRID"


#>

 


#>

 $Jaen


#>

  [1] "Xaén"              "Xaen"              "xaén"             


#>

  [4] "xaen"              "XAÉN"              "XAEN"             


#>

  [7] "Provincia de Xaén" "Provincia de Xaen" "provincia de xaén"


#>

 [10] "provincia de xaen" "PROVINCIA DE XAÉN" "PROVINCIA DE XAEN"


#>

 


#>

 $Orense


#>

 [1] "Ourense"              "ourense"              "OURENSE"             


#>

 [4] "Provincia de Ourense" "provincia de ourense" "PROVINCIA DE OURENSE"


#>

 


#>

 $Baleares


#>

 [1] "Illas Baleares"                 "illas baleares"                


#>

 [3] "ILLAS BALEARES"                 "Illas Baleares - Illes Balears"


#>

 [5] "illas baleares - illes balears" "ILLAS BALEARES - ILLES BALEARS"


#>